Robots are often welcome in the factory to lift heavy loads or to perform high-speed pick and place operations on production or packaging lines. But sometimes robots get bad press, like when people think they'll be replaced by these moving machines. So when starting MusashiAI, a joint venture between SixAI Ltd. based in Israel and Japan's Musashi Seimitsu (an affiliate of Honda Motor Corporation), launched a robot employment agency, the alarms went off. Does this mean that machine operators will soon lose their jobs?
Well, yes and no. Some people in the factory may be relocated, but the goal is to hand over the rigorous, repetitive tasks to robots and redeploy their human counterparts to higher value jobs.
"Our mission is to redistribute human labor, not to take it away and fire people," said Ran Poliakine, co-founder of MusashiAI. "The goal of the joint venture has always been to work towards our vision of Industry 4.0, where human workers do human jobs and are not trapped in manual industrial jobs."
The robot employment agency is actually a robots as a service (RaaS) business model that gives industrial manufacturers the ability to find the necessary manpower instead of investing significant capital in buying the robots. The work of the robots is billed by the hour or on a salary based on the task performed.
And in this case, the robot employees for hire are the company's autonomous visual quality control inspector and autonomous forklift driver coupled with an AI-enabled mobile robot fleet management system ( IA), which MusashiAI officially rolled out in July.
Human workers have traditionally been relegated to visual quality control of final industrial products because robots have not been able to surpass or even match the human ability to detect and identify surface defects quickly and with precision. But MusashiAI's autonomous robotic online visual quality control inspection system uses state-of-the-art image processing and a deep learning algorithm for rapid learning of "new parts".
MusashiAI's Standalone Visual QC Inspectorphoto credit: MusashiAI
"We believe that we are one of the first to bring to market autonomous AI robots capable of surpassing human workers in terms of speed and precision in detailed visual inspection," Poliakine said. "Most visual inspectors look at large geometric defects, our robots are able to detect surface level defects as small as 50 micrometers."
In addition, the autonomous forklift can support up to 1,500 kg load capacity and continuously self-optimizes. It navigates the warehouse or factory using MusashiAI's proprietary fleet management system which uses sophisticated perception and decision-making software in combination with inexpensive standard HD cameras. "Our robotic forklift driver comes with an advanced fleet management system that uses AI to predict accidents or obstacles before they happen," Poliakine said. "These drivers are safer than human drivers and bring massive efficiencies to the factory at very little cost because their hardware is not expensive at all – everything is done by software."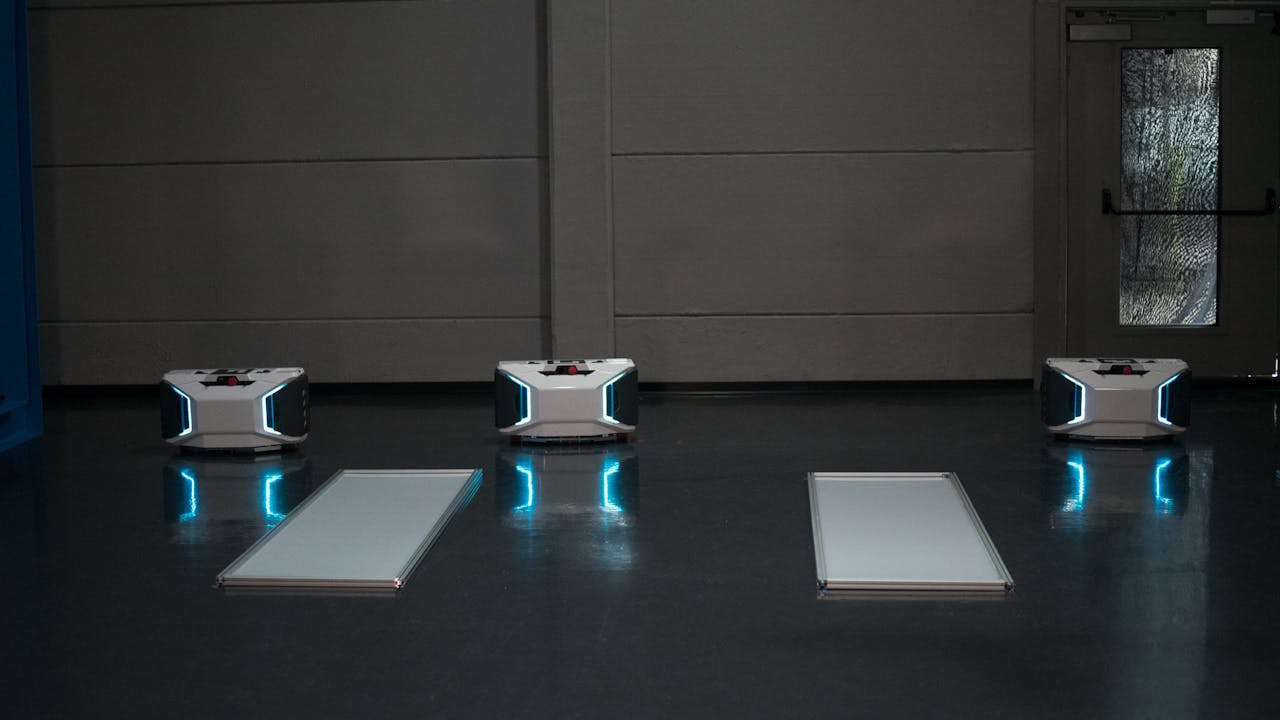 MusashiAI autonomous forklift driver with an AI-enabled mobile robot fleet management system.photo credit: MusashiAI
The autonomous forklift navigates between human workers using unique technology that combines cameras with a bird's-eye view, a plant control tower view, and a central processing unit. The majority of traditional fleet management systems rely on expensive cameras and sensory equipment on the driver's body. "We took a 'distributed organ' approach with our drivers: the eyes are industry-standard HD cameras that monitor the factory floor from above and connect to our driver management system. AI that processes information and directs forklift drivers away from potential accidents or obstacles. Poliakin said.
Live trials of the robotic technology were announced in December 2019 at the Musashi Seimitsu factory. According to the company, in less than 6 months, the trial results exceeded expectations and broke known technological barriers in the autonomous industrial robotics market. For example, MusashiAI robots need a small sample of "good" quality parts and can learn to identify a "good" part from a "bad" part in a matter of hours, just like a human does. This is a major breakthrough in AI learning models, Poliakine said.
Smart business when you need to social distance
Apart from relieving people from performing monotonous and tedious tasks, autonomous robots are gaining traction due to social distancing rules resulting from the COVID-19 pandemic.
In addition to its initial commitment with an advance payment of $10 million, Musashi Seimitsu is willing to expand the deployment of MusashiAI's autonomous quality control inspectors and autonomous forklift drivers in its factories globally, subject to that the company respects certain stages of development. MusashiAI also obtained a proof of concept (POC) for its standalone QC inspector from one of the largest bearing manufacturers in the world. In addition, MusashiAI will hold three POCs for autonomous forklift drivers and central management system with Israel's leading retail and fast-moving consumer goods (FMCG) groups starting in the fourth quarter of this year. These agreements will be the first times the robots will be tested outside of the Musashi Seimitsu Group.
"Globally, nearly 30 million people work in strenuous visual inspection tasks. Many of these people suffer from chronic health problems because of this work, such as carpal tunnel syndrome. There is no doubt that many of them have been furloughed because many industrial environments are now unsafe due to the coronavirus. These people are not key workers, but what they do is essential," Poliakine said. "Companies will need their end products to be inspected, and we are offering the world a solution that can protect employees from this deadly virus and the chronic health problems associated with their work, [as well as] the major economic danger of stalling business for much longer.
Also, this is a relatively risk-free trade move, Poliakine noted. "These robots are designed with people in mind – the vision is that they fit easily on the production floor where there will still be human workers, but free other workers from that particular drudgery. They are user-friendly and easy "to deploy wherever they're needed. Our OpEx model means customers can deploy robots when and where they need them, without significant capital expenditure."
Related Articles:
Robots versus humans in smart manufacturing