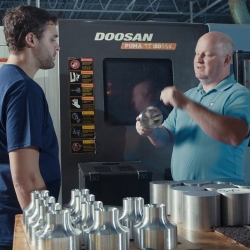 Employee development is vital in any industry. Your business is as good as the people you have on board who work with you to keep it going. The continued development of these employees and the enrichment of their careers is essential to ensure that they are happy and fulfilled at work.
This is especially true in the manufacturing industry. In this article, we explore why employee development is vital in the manufacturing industry and how manufacturing companies can increase and improve the development of their workforce.
Technology driven
Manufacturing is at the forefront of everything and as an ever-changing and growing industry it is constantly evolving. Organizations must continually embrace change in order to remain competitive in their markets.
Technology has arguably been the biggest game changer in recent times for the manufacturing industry. And while technology has made things much easier for manufacturing workers by taking over dangerous procedures and speeding up assembly processes, computer-aided manufacturing is simply not possible without a hand- skilled and highly skilled workforce.
As new technologies continue to be introduced, there is no way to ensure that your business will be at the forefront without first ensuring that your employees have the opportunity to harness these innovations and to become leaders in this new technology, like automation and cobots.
Investing in training opportunities for employees allows an individual to see their future in a business, and when it comes to staying on top of technology, it can be an exciting future. Plus, engaged employees with ever-changing skills lead to increased staff retention, which in an industry suffering from a skills shortage is an incredibly valuable thing.
Coping with the skills shortage
As baby boomers begin to retire, a skills gap is creating in their wake. Unfortunately, the perception of STEM careers has suffered in recent times, seen as less desirable in the UK than in other countries, and as a result, fewer young people are actively turning to careers in manufacturing.
Work to remedy this is underway. In the meantime, rather than focusing on the employees you don't have, focus on the ones you have. Let employees know you appreciate them. It is really important to give today's manufacturing workforce all the opportunities they need to fill these in-house skills gaps by providing diverse and high quality training opportunities.
Manufacturing has a proud heritage of promoting in-house staff. With such a wide range of roles and departments brought together into one (programming, management, health and safety, human resources, etc.), every employee should have the opportunity to grow up and sideways within the company. company, regardless of the direction in which he sees his career. them. By offering these options internally, your employees don't need to look to the competition for a change. Not only does this increase employee retention, but it is also an attractive prospect for all young people who decide that manufacturing is the right career path for them.
Strong teamwork makes the dream work
While employee development can sometimes feel like something revolving around individuals, building strong teams also plays an important role here as well. A job in manufacturing is usually not one where you work alone without communicating with others throughout your workday. It is important that manufacturing teams work well together to take projects to the next level and resolve any issues that may arise.
Manufacturing companies should invest in team building strategies to strengthen their teams and, in turn, each employee's sense of belonging and camaraderie. Not only that, but train the teams together on new processes and new technologies. This way everyone has a clear idea of ​​their role in the team and how they are all going to come together.
Continuously focusing on employee development will ensure that manufacturing companies can empower and retain their essential talents. Allowing employees to reach their full potential means they're less likely to look for opportunities elsewhere, meaning you can take advantage of a workforce with years of rich experience working for your organization. and its objectives.
CNC milling machines