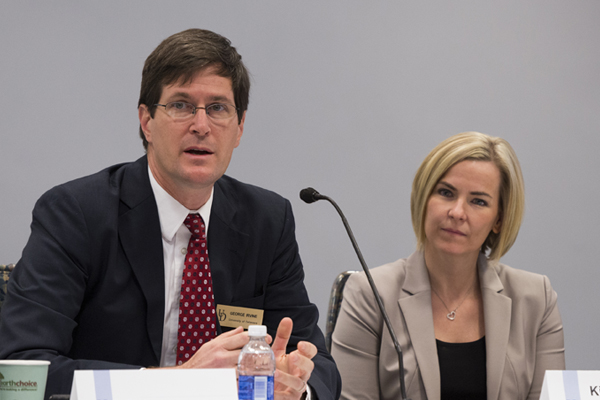 Panelists for the December 14 employee development roundtable included moderator George Irvine of UD Career and Continuing Studies and Kimberlee Krupa of Siemens Corporation.
3:40 p.m., January 17, 2013 – Remember the personnel department? It is an old-fashioned concept, focusing on record keeping and employee policies, which evolved into "human resource management" in the second half of the 20th century.
But the future of human resources is also changing. Panelists and participants at the University of Delaware Employee Development Roundtable in December discussed how organizations will develop their employees in the future, how local and global business pressures will affect the field, how technology will change employee development and what organizational development professionals should be doing now to shape the future.
Graduates, professors
As it neared time for the procession to open the University of Delaware Commencement Ceremonies, graduate students and faculty members shared their feelings about what the event means to them.
Doctoral hood
It was a day of triumph, cheers and collective relief as more than 160 students from 21 countries participated in the University of Delaware's Hooding Doctoral Convocation held Friday morning on The Green.
Organizational development and human resource professionals from more than 30 regional organizations participated in the seventh Employee Development Roundtable held Dec. 14 at UD's Clayton Hall. Sponsored by the University's Division of Career and Continuing Studies, UD's Career Services Center, and the Alfred Lerner College of Business and Economics, the roundtable focused on the future of employee and career development. organization and included expert panelists from JPMorgan Chase, Siemens Corporation, Beebe Medical Center and UD's Lerner College.
The panelists were Catherine Halen, vice president of human resources at Beebe Medical Center; Kimberlee Krupa, director of talent management at Siemens Corporation; Bejoy Philip, Head of Learning and Organizational Development at JPMorgan Chase; and John Sawyer, professor of business administration at UD and director of the master's program in organizational effectiveness, development and change.
The panel was moderated by George Irvine, Associate Director of Organizational Learning Solutions for UD's Division of Professional and Continuing Studies.
First and foremost, the panel and participants agreed that the future of employee and organizational development will fall under the rubric of "talent management" rather than training, learning and development or human resources. The discussion focused on how organizations should develop and retain current and future leaders, while aligning with broader organizational strategy.
"Organizational development is successful when viewed as a business necessity and not just another department within an organization," observed Halen. "It is most effective when offered and adopted at all levels of an organization."
Panelists and roundtable participants agreed that successful organizational development in the future:
Be driven by, and fundamental to, the success of an organization's business processes, not just employee development goals;
Include managers in business units as learning agents who will mentor, train and coach employees;
Include appropriate technology but be people driven;
Align with organizational strategy to ensure a seat at the senior management table;
Ensure that students and employees learn by doing rather than by learning and doing;
Prepare employees to be comfortable with the "new normal" for organizations – increased ambiguity and change in their organizations, and an ever-changing set of organizational priorities;
Think globally — because the global issues facing organizations will only increase in the future;
Focus on developing interpersonal skills, analytical skills, problem-solving skills, systems thinking, resilience and innovative thinking of employees;
Harness talent outside the organization through productive formal and informal contractual relationships;
Leveling the organization to foster innovation, empowerment and entrepreneurship.
Halen continued, "I think the roundtable provides a great opportunity for professionals from the business community and academia to hear what's happening in organizations of different sizes, industries and geographies. In some cases we face similar challenges and in some cases the challenges can be very different. It's a great opportunity to learn new approaches to tackling the challenges we all face.
"There are important interdependencies between the University and its community," added UD's Sawyer, who reported on several Lerner student projects done with local businesses. "These projects are important learning opportunities for students and provide valuable services to businesses in our community. The greatest impact we can have is to continually improve our skills and use of evidence-based management practices.
The roundtable was well received by attendees, many of whom commented on beneficial insights and insights they would apply to their organization. As one participant noted, "This discussion got me thinking about ways my organization can build a culture of innovation and engagement. Another commented: 'I took away many key points such as how to survive ambiguity and the future role of organizational development within the organisation.'
The next roundtable on employee development will take place in late spring. For more information, contact UD Professional and Continuing Studies, [email protected], or 302-831-7600.
Article by George Irvine and Nora Riehl Zelluk
Photos by Kathy F. Atkinson