Employment in commercial printing in the United States decreased by -1.4% in 2014, a decrease of -6,199 workers. A key segment of industry demand, periodicals (mainly magazines) fell below 100,000 employees in 2014, a level not seen since 1986. The segment fell -7.9% over the year . (Click on the picture to enlarge)
The content creation segments were much better; full year data is not yet available, but compared to November 2013 the results show the change in media strategy. Employment in graphic design is up +2.9%; this does not include self-employment. The increase in employment in graphic design outpaced the decline in employment in the printing industry. Employment in advertising agencies is up by +1.9%. The fastest growing component is public relations, up +6.7%. Excluding PR employment, agency employment was still up +1.3%. The increase in employment in public relations is probably more significant because these figures do not include self-employment. This data will not be available until 2016. It is possible that freelance employment will contract as agencies recruit talent for full-time positions, but based on anecdotal reports, it appears that the trend towards media digital is so strong that it grows as well but at a slower pace. * * * The national employment picture continued to improve with the overall unemployment rate figure falling to 5.6%. The problems with the job market is illustrated by how the rate has dropped. The unemployment rate is part of what is called the "household survey" which counts people as employed when they have a job, such as wage employment or self-employment. Each person is counted once, regardless of how many employers they might have. While the unemployment rate is part of every employment report, the number of jobs cited in news reports comes from a different data collection process, the "establishment survey". These are "salaried jobs". From a tax perspective, think of the two surveys in terms of the forms used to report employment taxes. The Wage Survey counts workers based on Form 941, where Social Security contributions are reported, and those workers receive W-2 forms at the end of the year. The household survey includes the assets of the payroll survey, but also those who submit Annex SE of their social security contributions, which is attached to their annual tax return. These workers are sole proprietors, partners, and other formats, including Schedule S companies. It is understandable that the salary survey is considered essential, and its validity can be verified based on the 941 forms that are filed throughout the year, usually weekly, as a measure of employment. The Bureau of Labor Statistics can do surveys and projections and within weeks they can have them verified by real data. Household survey data cannot be verified as quickly, but it can give a rough idea of ​​what happens when the self-employed file their estimated quarterly tax payments. But the real verification can only occur after the filing of the complete tax forms the following year. There is a slight problem with the wage survey in that some workers may be counted more than once if they have two employers. So if you have two part-time jobs, you are counted twice in the payroll department and once in the household survey. There is also a general prejudice that self-employment is not a "real job" and that these people do not have a "real job". From a practical point of view, they are right because these jobs are also less stable and salaried jobs are more stable and predictable from a statistical point of view. These employment statistics are not easy. The calculation of the unemployment rate is basically as follows:
the number of workers employed
divided by
the total number of people in the labor force
that the result is subtracted from 1 to show the percentage of the workforce that is unemployed.
Here is how we arrived at 5.6% compared to 5.8% in the previous report:
273,000 people left the labor force for some reason, usually because they were not employed at some point for a year; it is the net number of people joining the labor force minus the number of people who left

111,000 people found a job; it is the net number of people who got a job minus those who lost their job; this often involves the actions of 2 million people in any given month
thus, with more people leaving the labor market than the number of people getting a job (in the household survey), the unemployment rate fell. This contraction of the labor force is one of the main reasons why the unemployment rate has fallen so much in recent years.
Here is a 10-year graph of the participation rate (click to enlarge)…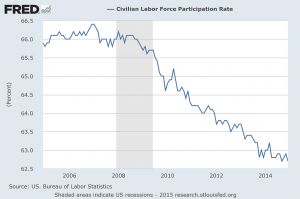 … and since 1948 (click to enlarge). The rate is at levels not seen for more than 35 years.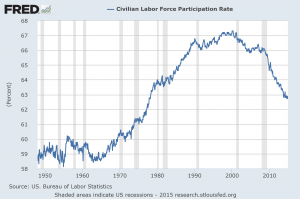 What's interesting about this employment cycle is that there are economists who say it's "normal" as baby boomers retire. But older workers are in a general increase in the workforce and their participation rate is rising. Baby boomers are the healthiest and most educated cohort of retirees in history, and maintaining employment is important to many of them. In recent years, with increasing age brackets, many are delaying retirement to allow retirement funds to remain untapped and also to receive higher social security benefits. (For many workers, delaying retirement until age 70 increases their monthly payments by up to 30%).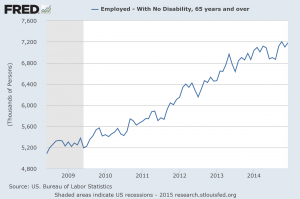 Over the past few weeks, this blog post has identified some economic data that has yet to rise above its pre-recession levels more than seven years ago. The number of full-time workers has not reached this level, even though the population has increased by more than 5% since that time. Adjusting for population growth, the economy is short of about seven to nine million full-time jobs. (Click on the picture to enlarge)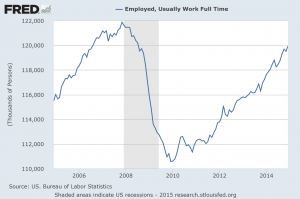 The total number of workers has exceeded pre-recession levels, but is lagging behind population adjustment. Of the 2.2 million additional people employed since last year, 970,000 of them were employed part-time.
Employment to population, one of the best ways to put the job picture into context, is slowly improving but still lagging recent historical levels. These are the last 10 years (click on the graph to enlarge)…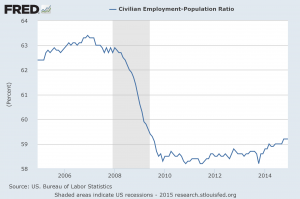 … and this since the end of the 1940s (click on the graph to enlarge it)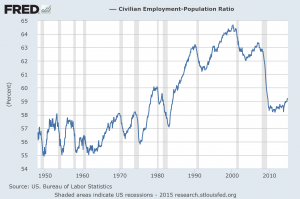 The NFIB survey of small business optimism indicates that hiring will increase, as well as the ISM manufacturing and non-manufacturing surveys. This new year will be interesting from an employment perspective, as the United States has a relatively stronger economy than other parts of the world. It remains to be seen whether the geopolitical issues can be contained in a way that does not derail the positive aspects of the US economy. Hold on tight, focus on staying one step ahead of your customers. # # #